News
by Lauren Schricker, PhD student
After weeks of preparation involving the entire lab—shout out to our undergrads Lydia and Kyle for weeks of tirelessly programming hundreds of units—Lauren and Tessa have deployed nearly 200 AudioMoths along a 20km transect in Sproul State Forest, located in north-central Pennsylvania. (For more about the history and significance of this study site, check out Lauren's recent blog post!) This is our first major transect and we are excited to get some data to play around with through the winter!
Our current set-up involves a sandwich bag and a desiccant pack to prevent moisture from reaching the AudioMoth hardware. It's resourceful, low-cost, and seems to work for now, but we are exploring options for creating weatherproof cases for the AudioMoth. Nothing can save the AudioMoths from Pennsylvania winters, though—we don't think they'll survive freezing temperatures. They'll return to the lab before the first frost, which we can probably expect sometime in November.
If our two-day trip along the transect was any indication, we can expect to hear a multitude of species on the recordings. While we are specifically only listening for birds at this time, we saw three young black bears within minutes of arriving in the forest. We heard tons of songbirds as well as Pennsylvania's state bird, the ruffed grouse. Most excitingly, as we paused to let some white-tailed deer cross the road, a barred owl was spooked into flying a little closer to us. Although the deer startled her, we seemed to pique her curiosity, and we spent about a half an hour checking each other out! Can you spot her in the photo below?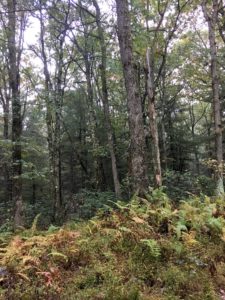 She's just to the right of the biggest tree in the middle, about halfway down the trunk, staring straight into the camera! Will we manage to find her or any of her conspecifics on the AudioMoth recordings? Stay tuned to find out!